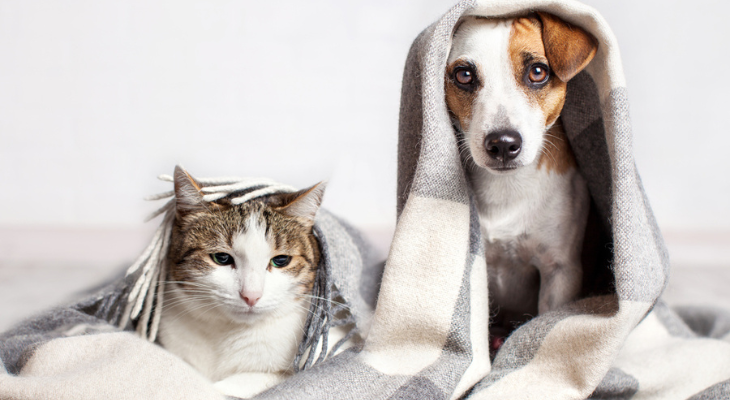 Can Pets and People Share Medication?
Every year, thousands of pets become sick when they swallow or are exposed to medication intended for humans. In fact, the ASPCA Animal Poison Control Center received more calls in 2021 about poisoning caused by over-the-counter and prescription medications than any other toxic substances. Although pet owners are only trying to help their furry friends, many pets suffer unnecessary health issues or even die when they receive human medications.
Why It's Not a Good Idea to Give Your Pet Human Medications
People and pets often metabolize (break down) medications differently. Breaking down an over-the-counter or prescription drug makes it easier for the drug to enter the bloodstream and travel to the tissues. Unfortunately, a drug that helps you feel better could make your pet very sick if the medication becomes stronger when it metabolizes.
Human medications can be used for pets in some instances but only if recommended by your veterinarian. If a drug is safe for your pet, the veterinarian will let you know the appropriate dosage for your dog, cat or small animal. Giving a pet the same dosage you use could cause serious health complications.
Medications That Can Sicken Your Pet
Many medications approved for use in people could sicken your dog, cat, or small animal ill, including:
Nonsteroidal Anti-Inflammatory Drugs (NSAIDs). NSAIDs decrease inflammation and pain and are a good choice if you have a headache or joint or muscle pain. Some NSAIDs are safe for pets, but the NSAIDs you take aren't. If your pet takes ibuprofen, aspirin, naproxen sodium or other NSAIDs, it could experience vomiting, diarrhea, stomach ulcers, or liver and kidney damage.
Acetaminophen. Cats are particularly sensitive to acetaminophen and can die if they ingest it. Both cats and dogs may develop liver damage from the over-the-counter medication, according to Drugs.com.
Vitamins and Supplements. The vitamins and supplements you take to improve your health could harm your pets. The ASPCA Animal Poison Control Center reports that alpha-lipoic acid, xylitol, iron, vitamin D3 and coffee extract, common ingredients in supplements, are particularly unsafe for pets. These ingredients may cause health problems ranging from vomiting to seizures to death.
Antidepressants and Attention-Deficit/Hyperactivity Disorder (ADHD) Medication. If your pet swallows ADHD or antidepressant medication, it could develop seizures, tremors, elevated heart rate and high body temperature.
Decongestants and Allergy Medications. Pseudoephedrine or phenylephrine, the active ingredients in medications that relieve your congestion or ease your allergy symptoms, may make your pets very ill. These drugs, particularly those that have a "D" at the end of their names, such as Claritin-D, can cause seizures, dangerously elevated heart rate and death.
Beta-Blockers. Beta-blockers used to treat high blood pressure may have the opposite effect on your pet. The drugs could cause your pet's blood pressure and heart rate to drop to dangerously low levels.
Sleeping Aids and Anti-Anxiety Medication. Your pet might become agitated or develop an elevated heart rate or low blood pressure if it swallows sleeping pills or anti-anxiety drugs.
Topical Cancer Medication. Fluorouracil, a topical medication applied to cancerous lesions on the skin, can kill dogs, according to the U.S. Food and Drug Administration (FDA). Although there have been no reports of deaths in cats, the FDA notes that the medication could also sicken cats that are exposed to it.
How to Protect Your Pet
Protecting your pet from toxic drugs can be as simple as:
Keeping all medication in a secure place
Putting child-proof locks on your cabinets if your dog or cat knows how to open the doors
Picking up dropped pills and cleaning up spilled medication immediately
Placing empty pill bottles, applicators or tubes in the outside trash as soon as you finish a dose or prescription
Asking your veterinarian if a medication is safe for your pet
Calling your veterinarian, the ASPCA Animal Poison Control Center or another poison control center if your pet accidentally ingests a human medication.
Are you wondering if a particular medication is safe for your pet or worried that your companion may have accidentally swallowed one of your medications? Give us a call and we'll let you know what to do.
Sources:
ASPCA Animal Poison Control Center: Top 10 Pet Toxins of 2021
ASPCA: Which Supplements and Vitamins Are Dangerous for Pets?, 1/15/2021
U.S. Food and Drug Administration: FDA Advice on Pet Exposure to Prescription Topical (Human) Cancer Treatment - Fluorouracil, 11/2/2020
University of Illinois Urbana-Champaign College of Veterinary Medicine: Keep Your Medications Away from Pets
Drugs.com: Is it Safe to Give Human Medicine to Pets?, 9/14/2021
American Veterinary Medical Association:10 Poison Pills for Pets