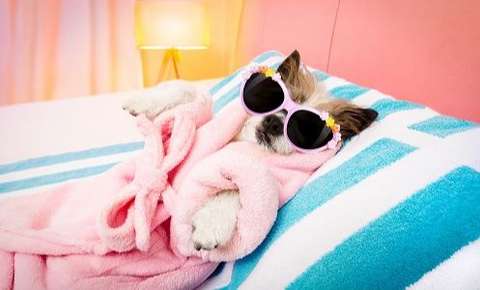 Massage Offers Important Benefits for Pets
Have you given your pet a massage recently? The hands-on therapy isn't just for humans but also provides a few benefits for our furry friends.
Massage Relieves Aches and Pains
Dogs and cats can't complain about tight muscles, but that doesn't mean that their muscles aren't sore after a vigorous session of catch-the-frisbee or a frenetic midnight dash through your house. When muscles are tight, they press on nerves, ligaments, and tendons, making pain worse. Although any pet can benefit from massage, the hands-on treatment may be particularly helpful for older dogs and cats who suffer from arthritis and other conditions that cause painful joints and muscles.
Health Benefits of Massage
The same health benefits massage offers you may also apply to your pets. The therapy improves blood and lymph circulation, increases range of motion, improves digestion, and may play a role in lowering blood pressure. It may also reduce swelling and stiffness in muscles and joints, improve flexibility, and help your pet sleep better. When you massage your dog or cat regularly, you'll also notice lumps, bumps, rashes or infections immediately, which will help you ensure that your pet receives prompt treatment for the health issues.
Is Your Pet Anxious? Massage May Help
Life is difficult for pets who live with anxiety. Loud noises or even slight changes in the normal routine can send your trembling dog or cat scurrying for a safe hiding place. Although medication may be helpful, anxiety drugs can cause unpleasant side effects. Massage offers a completely natural way to reduce your pet's stress and anxiety.
During a massage, your pet's body releases endorphins, natural body chemicals that decrease pain and help your furry friend feel calm and relaxed. Regular treatments can help reduce overall stress and may be particularly helpful when a frightening event makes your pet feel a little anxious.
Regular Massage Improves Your Bond with Your Pet
One-on-one time with your pet may be a rare occurrence when you have a busy life. When you devote 10 or 15 minutes to massages every day or a few times a week, you may deepen the relationship you enjoy with your dog or cat.
Massage for Pets: The Basics
These tips can help makes a massage a pleasant experience for you and your pet.
Choose a quiet room in the house with no distractions. Keep initial sessions short to give your pet time to adjust to this new experience.
Be flexible. Although lying down might be the best way for you to experience a massage, your pet might disagree. You can massage muscles just as well (or even better) if your pet prefers to stand or sit.
Long, gentle strokes will help your pet relax before you begin the massage. Once your pet seems calm, increase the pressure of the strokes slightly. Although you might enjoy Swedish massages, your dog or cat may find firm pressure uncomfortable.
Add circular motions, particularly when massaging the head, neck, shoulder, chest, back, and hip muscles.
Don't press directly on bones, as this can be painful.
Pay attention to your pet's signals. If he or she yelps or squirms, it's time to move on to another part of the body, use less pressure, or stop the massage. Keep in mind that, just like people, your pet may have certain preferences. Some animals like leg and paw massages, while others find the sensation unpleasant.
End the massage session with gentle petting to enhance relaxation.
Many pets tend to like massages just as much as people do. In fact, don't be surprised if your furry friend soon begs for a special session with you!
Massages, in addition to regular veterinary care, will help you keep your pet healthy and content. If you're concerned about a possible health issue, give us a call. We'll schedule a convenient appointment time for your pet.
Sources:
Modern Dog Magazine: How to Massage Your Dog
https://moderndogmagazine.com/articles/how-massage-your-dog/2028
PetMD: How to Give Your Pet a Massage
https://www.petmd.com/dog/wellness/how-give-your-pet-massage
Cesar's Way: Why You Should Give Your Dog a Massage
https://www.cesarsway.com/dog-care/muscular-skeletal-care/Why-you-should-give-your-dog-a-massage