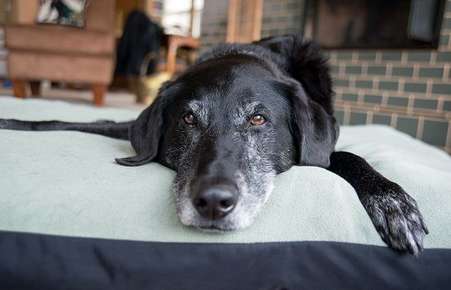 Years of running, jumping and walking take a toll on your pet's joints. When your once energetic cat or dog starts to slows down or appears to be in pain, osteoarthritis may be to blame. The disease wears down the cartilage in the joints, causing bones to rub together painfully. Although there's no way to reverse arthritis, you can do a few things to make your furry friend's life more comfortable.
Arthritis Signs
Arthritis signs are often subtle and can be confused with general behavioral changes associated with aging. Pets may show little interest in playing, even though a rousing game of fetch was once a favorite daily activity. When it hurts to stand up or lie down, it's not surprising that your dog or cat may move as little as possible during the day. Sleeping or resting more may be an indication that your pet suffers from painful, stiff joints.
Other signs of arthritis may include weight gain, limping, poor grooming in cats, reluctance to jump or climb stairs, or licking or biting the skin over a sore joint. Walking and moving requires more energy when your joints don't work as well as they once did. If your pet has arthritis, you may notice that he or she tires faster than usual or isn't eager to join you on your nightly walk.
Because other health conditions may share some of the same signs as arthritis, it's important to receive a diagnosis from your pet's veterinarian before you treat your dog or cat's condition at home.
Try These Tips to Improve Your Pet's Comfort
Adopting these strategies can reduce pain and strain on joints and muscles:
Go Soft. Provide soft resting places that offer plenty of cushioning and prevent exposure to cold drafts. Even pets that once enjoyed lying on the hard floor will appreciate a soft bed if they develop arthritis.
Buy a Ramp. Ramps of varying sizes can help your dog or cat navigate your home. Install a large ramp over the steps leading into your home to make it easier for your pet to access your yard. Buy smaller ramps and place them next to your pet's favorite chair or your bed (if your pet sleeps with you).
Make a Few Changes. Look for ways to make your pet's life easier. If your cat has difficulty climbing into the litter box, buy a box with lower edges or cut out a section of the existing box. Raising eating and drinking dishes can make mealtime easier for some pets with arthritis.
Encourage Exercise. Although your pet may be reluctant to exercise, moving can help reduce joint stiffness. You may need to make some adaptations to your pet's usual exercise routine, such as substituting short walks for agility training. Swimming is an excellent source of exercise for dogs because it doesn't stress the joints.
Become a Masseuse. Gently massage the muscles surrounding your pet's joints to help relieve pain and stiffness and improve range of motion. If your pet yelps or complains during a massage, use a softer touch or concentrate on a less sensitive area of the body.
Help Your Pet Lose Weight. It's harder to exercise when you're in pain. Unfortunately, if your pet doesn't exercise, he or she will gain weight, which can worsen arthritis symptoms. According to a study published in the February 2010 issue of Veterinary Research Communications, a 6 percent or higher weight loss significantly decreased lameness in dogs with osteoarthritis. In addition to exercise, switching to a senior diet may help your pet lose weight.
Consider Supplements. Glucosamine and chondroitrin, the same supplements people use, may also be helpful in treating arthritis in pets. Before you give your pet any supplement or over-the-counter medication, consult a veterinarian. Some supplements or medications that are safe for people can harm pets.
Talk to Your Pet's Veterinarian. Your pet's veterinarian can provide treatment and advice that will help relieve pain and improve mobility. If your dog or cat seems to be in pain, the vet may prescribe pain relievers and anti-inflammatory medications that can improve your pet's quality of life.
Regular veterinary care and a little extra TLC from you will make your arthritic pet's life easier. Call us today to schedule an appointment for your furry friend.
Sources:
PetMD: Arthritis: How to Recognize and Manage the Condition
http://www.petmd.com/dog/general-health/evr_dg_arthritis_how_to_recognize_and_manage_the_condition?page=show
Veterinary Research Communications: The Effect of Weight Loss on Lameness in Obese Dogs with Osteoarthritis, 2/10