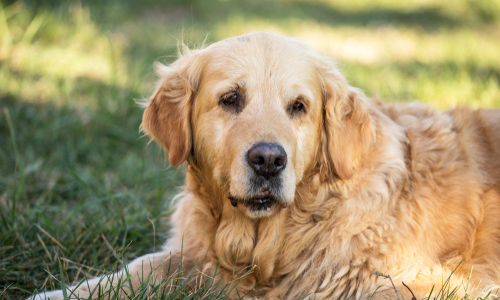 Could Your Senior Dog Have Dementia?
Dogs and people share many things in common, including the tendency to develop dementia as they age. If your dog has dementia, you'll notice a few key behavioral changes.
Common Signs of Dementia
Canine cognitive dysfunction (CCD), commonly called dementia, is responsible for the changes you may have noticed in your dog's behavior. Your dog's chance of developing dementia increases with age. Twenty-eight percent of 11- to 12-year-old dogs have CCD, while 68 percent of 15- to 16-year-old dogs have the disorder, according to Today's Veterinary Practice.
Signs and symptoms of dementia may include:
Restlessness. Your pet may wander around the house and be uninterested in remaining in one spot for very long. Pacing or walking in circles are common in dogs with dementia.
Confusion. Dogs with CCD can become easily confused, even in their own homes. They may forget where their food dishes are or find it difficult to find their way from the upper to the lower level of your home. As the disorder worsens, your dog might even forget its name or fail to recognize family members.
Sleep Changes. CCD can interfere with your pet's normal sleep/wake cycle. Your dog may roam your house all night and spend all day sleeping.
Barking or Howling. Dogs with dementia may suddenly bark, howl, or whine for no apparent reason.
Separation Anxiety. Some dogs become less interested in spending time with family members, while others can't bear to be away from you for a minute.
Staring. Your pet may spend long periods of time staring into space.
Irritability. Has your formerly mellow dog suddenly become irritable and aggressive? Behavioral chances are common in dogs that have dementia.
Disinterest. CCD may cause your dog to lose interest in favorite toys, foods, or people.
Housetraining Accidents. Your housebroken pet may suddenly start having accidents inside the house. Changes in the brain can make it difficult for your dog to remember that elimination should only take place outside. Some dogs may also have trouble with bladder or bowel control.
What to Do if You Think Your Dog Has Dementia
A visit to the veterinarian is a must if you suspect that your dog has dementia. Some diseases and illnesses, such as brain tumors and tick-borne diseases, can cause symptoms similar to those that occur with dementia.
If your pet is diagnosed with CCD, your pet's doctor may make a few recommendations that could help your pet, including:
Changing Your Pet's Diet. Today's Veterinary Practice reports that a diet rich in antioxidants may help reduce cognitive decline in pets with CCD. You can also give your dog supplements that may relieve or reduce dementia symptoms.
Trying Prescription Medication. Your pet's veterinarian may prescribe selegiline hydrochloride, a drug that controls some of the symptoms of CCD. Other medications can be useful if your dog suffers from anxiety or depression related to dementia.
Maintaining a Regular Routine. Changes are very confusing for pets with dementia. Following the same routine every day can help your dog feel more secure.
Scheduling Regular Potty Breaks. Taking your pet outside several times a day is a simple way to reduce housetraining accidents.
Regular Exercise. Exercise is particularly important for your dog's physical and mental well-being. While you're outside, play a new game with your pet or introduce a new toy. Mental stimulation is particularly important for dogs with CCD.
Are you concerned that your dog may have dementia? Contact our office to schedule an appointment.
Sources:
PetMD: 7 Signs of Dog Dementia, 1/19/16
The Ohio State University College of Veterinary Medicine: Cognitive Dysfunction Syndrome
Today's Veterinary Practice: Management of Dogs and Cats with Cognitive Dysfunction